Levy's Jewish Rye Bread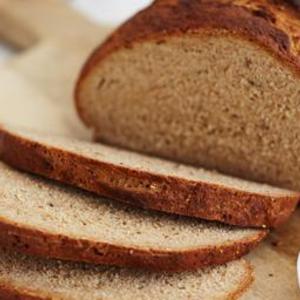 This is my favorite rye bread. It comes from Rose Levy Beranbaum's "The Bread Bible". I can whole heartedly recommend this book, it is one of the most used baking books on my shelf!
Time schedule:
Dough starter (sponge): minimum 1 hour, maximum 24 hours
Minimum rising time: about 3 1/4 hours
Oven temperature: 450° F, then 400° F
Baking time: 45 to 55 minutes
Dough starter (sponge)
Ingredients
measure
weight
volume
ounces
grams
Bread flour
3/4 cup
About 4 ounces
117 grams
Rye flour
3/4 cup
3.3 ounces
95 grams
Instant yeast
1/2 teaspoon
—
1.6 grams
sugar
1 1/2 tablespoons
0.6 ounce
18.7 grams
Malt powder or

  Barley malt syrup, or honey, or 

   sugar

1/2 tablespoon
—
4.6 grams

10.5 grams

6.2 grams

Water, room temperature
1 1/2 liquid cups
12.5 ounces
354 grams
1. Make the Sponge. In a mixer bowl or other large bowl, place the bread flour, rye flour, yeast, sugar, malt (or honey or sugar), and water. Whisk until very smooth, to incorporate air, about 2 minutes. The starter will be the consistency of a thick batter. Scrape down the sides of the bowl. Set it aside covered with plastic wrap while you make the flour mixture. 
Flour mixture
Ingredents
measure
weight
volume
ounces
grams
Bread flour
2 1/4 cup
About 12.5 ounces
351 grams
Instant yeast
1/2 plus

1/8 teaspoon

—
2 grams
Caraway seeds
2 tablespoons
0.5 ounce
14 grams
salt
1/2 tablespoon
0.3 ounce
10.5 grams
Vegetable oil
1/2 tablespoon
0.25 ounce
6.7 grams
Cornmeal for sprinkling
About 2 teaspoons
About 0.5 ounce
About 16 grams
2. Combine the ingredients for the flour mixture and add to the sponge. In a large bowl, whisk together the bread flour (reserve 1/4 cup if mixing by hand), yeast, caraway seeds, and salt. Gently scoop it onto the sponge to cover it completely. Cover tightly with plastic wrap and allow it to ferment for 1 to 4 hours at room temperature. (During this time, the sponge will bubble through the flour mixture in places; this is fine).
3. Mix the dough. 
Mixer Method
Add the oil and mix with the dough hook on low speed (#2 if using a KitchenAid) for about 1 minute, until the flour is moistened enough to form a rough dough. Raise the speed to medium (#4 KitchenAid) and mix for 10 minutes. The dough should be very smooth and elastic, and it should jump back when pressed with a fingertip. If the dough is at all sticky, turn it out onto a counter and knead in a little extra flour. (The dough will weigh about 2 pounds 1.7 ounces/965 grams)
Hand Method
Add the oil and, with a wooden spoon or your hand, stir until the flour is moistened. Knead the dough in the bowl until it comes together, then scrape it onto a lightly floured counter. Knead the dough for 5 minutes, enough to develop the gluten structure a little, adding as little of the reserved flour as possible to keep it from sticking. Use a bench scraper to scrape the dough and gather it together as you knead it. At this point, it will be a little sticky. Cover it with the inverted bowl and allow it to rest for 20 minutes. (This resting time will make the dough less sticky and easier to work with.)
Knead the dough for another 5 to 10 minutes or until it is very smooth and elastic. If the dough is sticky, add some of the remaining reserved flour, or a little extra. (The dough will weigh 2 pounds 1.7 ounces/965 grams)
Both Methods
4. Let the dough rise. Place the dough in a 2-quart dough-rising container or bowl, lightly greased with cooking spray or oil. Press down the dough and lightly spray or oil the top. Cover the container with a lid or plastic wrap. With a piece of tape, mark the side of the container at approximately where the height of the dough would be. Allow the dough to rise (ideally at 75° to 80° F) until doubled, 1 1/2 to 2 hours.
Using an oiled spatula or dough scraper, scrape the dough out onto a floured counter and press down on it gently to form a rectangle. Give it 1 business letter turn. Oil the surface again, cover, and mark where double the height would now be. The dough will fill the container fuller than before because it is puffier with air. Allow rise a second time until doubled, about 45 minutes. 
5. Shape the dough and let it rise. Turn the dough out onto a lightly floured counter and press it down to flatten it slightly. Round the dough into a ball about 5 1/2 inches by 2 1/2 inches high and set it on the cornmeal sprinkled baking sheet, or La Cloche bottom. Cover it with a large container or oiled plastic wrap, let the dough rise until almost doubled, about 1 hour to 1 hour and 15 minutes. It will be about 7 1/2 inches by 3 1/2 inches high, and when it is pressed gently with a  fingertip the depression will very slowly fill in.
6. Preheat the oven. Preheat the oven to 450°F 1 hour before baking. Have an oven shelf at the lowest level and place a baking stone or baking sheet on it before pre-heating. If not using La Cloche, place a cast-iron skillet or sheet pan on the floor of the oven to preheat. If using La Cloche, preheat the dome along with the oven.
7, Slash and bake the bread. With a sharp knife or single-edged razor blade, make 1/4 to 1/2 inch deep slashes in the top of the dough (I like to make 2 slashes about 6 inches apart in one direction and a second 2 slashes perpendicular to them). If  using La Cloche, carefully place the hot top on the base and quickly but gently set it on the hot stone or hot baking sheet. Alternatively, mist the dough with water and quickly but gently set the baking sheet on the hot stone or hot baking sheet. Toss 1/2 cup of ice cubes into the pan beneath and immediately shut the door. Bake for 15 minutes. Then lower the temperature to 400°F and continue baking for 30 to 40 minutes or until the bread is golden brown and a skewer inserted into the middle comes out clean (an instant read thermometer inserted into the center will read about 190°F). If not using a La Cloche, halfway through the baking, with a heavy pancake turner, lift the bread from the pan and set it directly on the stone, turning it around as you do so for even baking. If using La Cloche, remove the dome for the last 5 to 10 minutes of baking. 
8. Cool the bread. Remove the bread from the oven, and transfer to a wire rack to cool completely.
The Dough percentage
Flour
100% (bread 83.1%, rye 16.9%)
Water
62.9%
Sugar
3.3%
Yeast
0.64%
Caraway seeds
2.5%
Salt
1.9%
Oil
1.2%
---
---