Beef and Cabbage Buns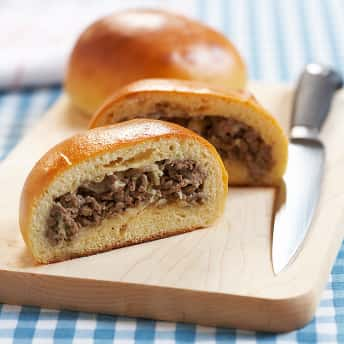 Runsas (Beef and Cabbage Buns with cheese)
A soft yeast dough stuffed with a quick filling of ground beef, cabbage and cheese is reasonably simply and surprisingly addictive. This mid-western Germany classic is perfect for Oktoberfest or any time of year.
Dough:
⁃ 3/4 cup warm water (110 degrees)
⁃ 1/2 cup sweetened condensed milk
⁃ 1/4 cup vegetable oil
⁃ 2 Tablespoons sugar
⁃ 1 large egg
⁃ 3 1/2 cups all-purpose flour
⁃ 2 packages rapid-rise or instant yeast
⁃ 1 teaspoon salt
Filling:
⁃ 3 tablespoons unsalted butter (with 2 tablespoons melted)
⁃ 1 1/2 pounds 90% lean ground beef
⁃ 1 large onion, chopped fine
⁃ 1/2 small head cabbage, cored and chopped into medium-sized pieces (about 3 cups)
⁃ Salt and pepper
⁃ 8 slices deli American cheese
1. For the dough: Lightly grease a large bowl with cooking spray. Mix the water, condensed milk, oil, sugar, and egg in a large measuring cup. Mix the flour, yeast, and salt in the bowl of a stand mixer fitted with the dough hook. With the mixer on low, add the water mixture. After the dough comes together, increase the speed to medium and mix until shiny and smooth, 4 to 6 minutes. Turn the dough out onto a heavily floured work surface, shape into a ball, and place in the greased bowl. Cover the bowl with plastic wrap and let rest in a warm place until doubled in size, about 1 hour.
2. For the filling: Melt 1 tablespoon of the butter in a large skillet over medium-high heat. Add the beef and cook until just beginning to brown, about 6 minutes, breaking up any large clumps. Using a slotted spoon, transfer the beef to a paper towel-lined plate.
3. Pour off all but 2 tablespoons of fat from the pan. Add the onion and cook until softened, about 3 minutes. Add the cabbage and toss until just beginning to wilt, 2 to 4 minutes. Return the beef to the pan and season with salt and pepper.
4. To assemble and bake: Adjust two oven racks to the upper-middle and lower-middle positions and heat the oven to 350 degrees. Cover two baking sheets with cooking spray. Divide the dough into 8 equal pieces. Working on a lightly floured work surface, roll each piece fo dough into a 7-inch circle. Place one dough round in a deep cereal bowl and top with one slice of cheese. Spoon 3/4 cup filling over the cheese and pinch the edges of the dough together to form a bun. Transfer the bun, seam side down, to a prepared baking sheet. Repeat with the remaining dough, cheese, and filling, placing four buns on each baking sheet. Cover the buns with plastic wrap and let rise until puffed, about 20 minutes.
5. Bake the buns until golden brown, about 20 minutes, switching and rotating the baking sheets halfway through the baking time. Melt the remaining 2 tablespoons butter in a saucepan. Brush the hot buns with the melted butter and serve.
---
---