Turkey Pot Pie for Two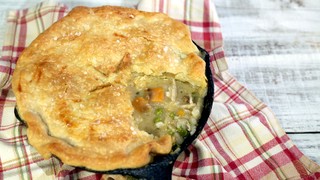 Turkey Pot Pie for Two
Ingredients
4 tablespoons butter

1 onion (peeled, small dice)

3/4 cup sweet potato (peeled, medium dice)

3/4 cup parsnip (peeled, medium dice)

4 tablespoons all-purpose flour

2 cups chicken stock

1/4 teaspoon grated nutmeg

1 tablespoon sage (chopped)

1 cup store-bought roasted turkey breast (skin removed, shredded)

1/2 cup frozen peas (thawed)

1/4 cup heavy cream

1 sheet store-bought pie dough (thawed)

Kosher salt and freshly ground black pepper (to taste)
Directions
Preheat oven to 350ºF.

Melt the butter in a small Dutch oven or high-sided sauté pan over medium heat. Add onion, sweet potato, and parsnip and cook until onions are translucent, about 4 minutes. Season with salt and pepper. Add flour and stir to coat vegetables, cook an additional minute.

Slowly add the stock, stirring to avoid lumps. Bring to a simmer and reduce heat to low. Cook until the sauce has thickened and vegetables are tender, about 10 minutes.

Add the nutmeg, sage, shredded turkey, peas and heavy cream. Season with salt and pepper. Bring back to a simmer and stir to combine. Allow mixture to cool to room temperature. Remove mixture to an 8-inch deep-dish cast iron skillet. Top with pie crust and tuck in the edges. Cut 4 slits in the top of the crust and brush with egg wash. Bake for 15 minutes or until the crust is golden brown.

Remove from the oven and allow to cool slightly before serving.
Tip: 1. Perfect recipe for leftover roasted veggies and turkey!

2. Be sure to allow the filling to cool before removing to the the cast iron skillet to avoid cooking the chilled pie crust before baking.
---
---