Fettuccine Alfredo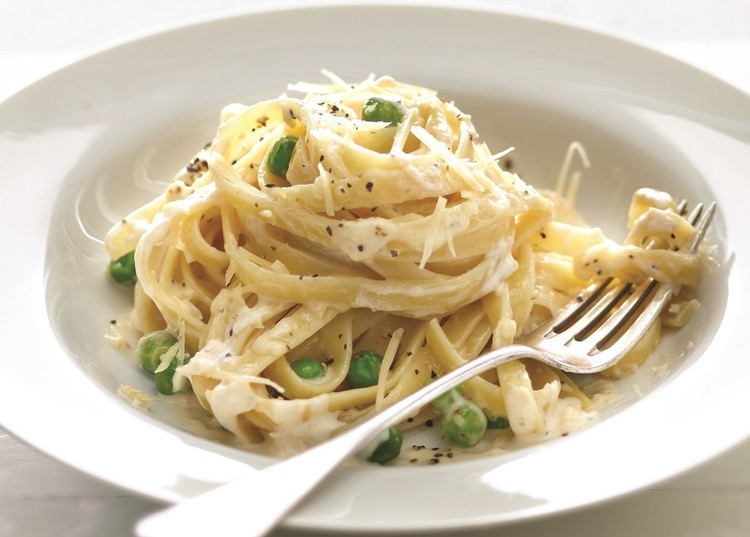 Fettuccine Alfredo
Serves 4 to 6 as a first course.
Fresh pasta is the best choice for this dish; supermarkets sell 9-ounce containers of fresh pasta in the refrigerator section. When boiling the pasta, undercook it slightly (even shy of al dente) because the pasta cooks an additional minute or two in the sauce. Note that Fettuccine Alfredo must be served immediately; it does not hold or reheat well.
1 1/2 cups heavy cream
2 tablespoons unsalted butter
Table salt
1/2 teaspoon ground black pepper
9 ounces fresh fettuccine
1 1/2 ounces Parmesan cheese , grated (about 3/4 cup)
1/8 teaspoon fresh grated nutmeg
Instructions
Bring 4 1/2 quarts water to rolling boil, covered, in large stockpot or Dutch oven. Using ladle or heatproof measuring cup, fill each individual serving bowl with about 1/2 cup boiling water; set bowls aside to warm.
While water comes to boil, bring 1 cup heavy cream and butter to simmer in 3- to 4-quart saucepan over medium heat; reduce heat to low and simmer gently until mixture reduces to 2/3 cup, 12 to 15 minutes. Off heat, stir in remaining 1/2 cup cream, 1/2 teaspoon salt, and pepper.
Add 1 tablespoon salt and pasta to boiling water; cook pasta until just shy of al dente. Reserve 1/4 cup pasta cooking water, then drain pasta. Meanwhile, return cream mixture to simmer over medium-high heat; reduce heat to low and add pasta, Parmesan, and nutmeg to cream mixture. Cook over low heat, tossing pasta with tongs to combine, until sauce coats pasta and pasta is just al dente and cheese is melted, 1 to 2 minutes. Stir in reserved pasta cooking water; sauce may look rather thin but will gradually thicken as pasta is served and eaten. Working quickly, empty serving bowls of water; divide pasta among bowls, tossing pasta to coat well with sauce. Serve immediately.
---
---