Felicity's perfect risotto recipe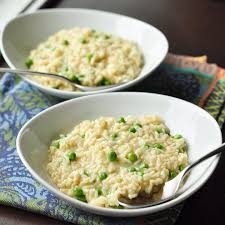 Felicity's perfect risotto recipe
Half an onion, finely chopped

25g butter or 1 tablespoon vegetable oil

1.25l good stock, chicken or vegetable

200g arborio, carnaroli, or vialone nano rice

50g unsalted butter, diced

50g Parmesan or Grana Padano (for a vegetarian option) cheese, grated 
Bring the stock to the boil (cubes will often be too salty, so taste and water it down if necessary).

Melt the 25g of butter (or use the vegetable oil) and soften the onion in a heavy-bottomed, straight-sided pan, then add the carnaroli rice. Turn up the heat, and stir to coat the grains with butter.

When they are hot, add a small glass of white wine, and keep stirring until this has evaporated. Then you're ready to start adding the stock, a ladleful at a time. Stir until it has nearly all been absorbed – the rice should always be sloppy, rather than dry – and then add another, and so on.

Add any extra ingredients at some point during this time, depending on how robust they are – usually about 10 minutes in.

When the rice begins to soften (after about 13 minutes, but the only way to know is to keep checking), add the stock in smaller amounts, and test it regularly, until it is cooked to your liking. Then add 50g of diced butter, and 50g of grated cheese, and beat in with gusto, until the risotto is rich and creamy. Check the seasoning, then serve immediately.
http://www.theguardian.com/lifeandstyle/wordofmouth/2010/may/06/how-to-make-perfect-risotto
---
---